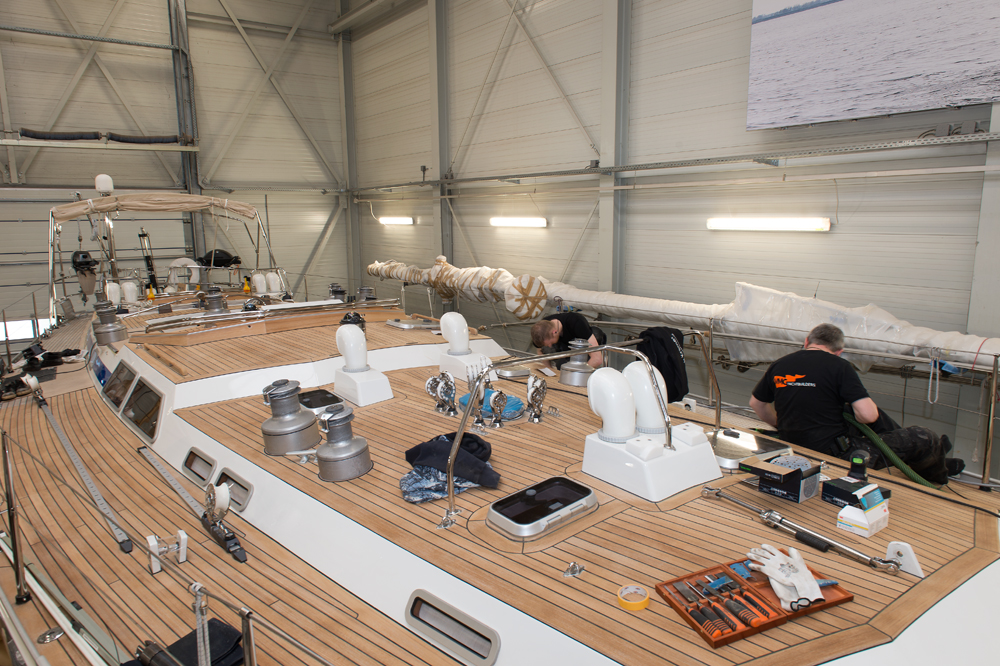 Our refits
When it comes to interior design, safety and technology on board, requirements change over the years. When you don't feel like buying a newly built yacht you may choose for a refit. VMG Yachtbuilders performs and manages refit projects to let your yacht meet all your wishes and the standards of today.
A second life
A refit is an investment in value and pleasure of your yacht. After replacement of damaged, corroded and outdated parts, your yacht is like new and you are ready to sail another 20 years.
All expertise under one roof
Apart from yacht carpenters and composite builders and a project team, VMG Yachtbuilders has a large network of specialists like metal workers, technical installers, yacht painters, diesel mechanics and riggers. We take care and responsibility for the complete project.
What we do:
carpentry interior and exterior
glass/epoxy and carbon/epoxy sandwich, gelcoat and GRP-repairs
technical installations and engine maintenance and repairs
rigging and sails
metallic repairs (steel, aluminium)
navigation, infotainment and other electronic equipment
decking: teak repair, teak replacement, teak alternatives and Hi-Tide Deck (foam decks)
(spray)painting and varnishing
Interior
Every yacht is unique. Therefor interior carpentry -wether it concerns a galley, engine room or saloon- is always a tailor made project. A very precise job, which can easily be entrusted to VMG Yachtbuilders with over 30 years of experience. We can even help you make a whole new layout in co-operation with one of our interior designers. We are able to handle projects up to 120ft in our facilities. At VMG Yachtbuilders you will find all craftsmanship, techniques and technologies under one roof.
Exterior
The yacht's exterior suffers a lot from wind, water, salt & sun. Regular maintenance of the exterior helps to preserve the quality and value of your yacht. But the moment will come inevitably that you will need to replace your teak deck, restore weatherbeaten and worn-out parts or even do a partial or complete refit. The traditional craftsmanship of our carpenters combined with the most sophisticated machines and technology warrant your yacht will shine like all new again and wooden parts are protected against nature's harsh conditions.
The teak deck specialist
When you set high demands on a traditional teak deck, VMG Yachtbuilders is the place to go. The teak is carefully selected from the tree trunk and quarter sawn to our own specifications. When we restore or repair an existing teak deck, the seams are milled clean from old glue and caulking centimeter by centimeter. The subsurface will carefully be inspected and prepared before gluing. We apply teak decks screwless and without plywood underlayment.
By the way: we can produce decks in any other material as well.
Project news