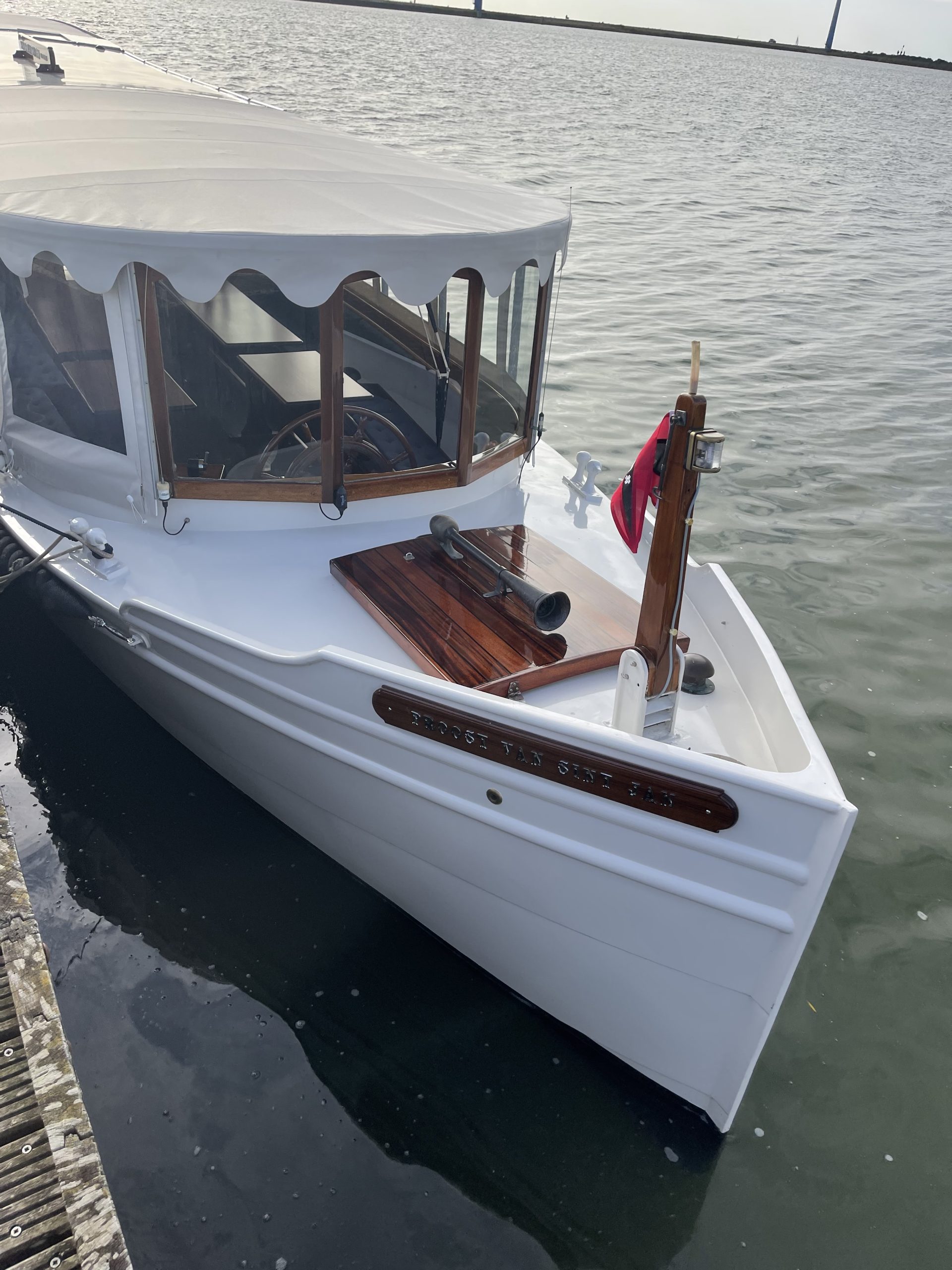 Project saloon boat "Proost van Sint Jan anno 1900" finished:
In the past years we had the honor to work on some really nice vintage yachts. This time we did a refit on a typical Dutch vintage boat. In Dutch we call it a saloon boat, this particular boat is from the year 1900 and is called "Proost van Sint Jan". We worked together with Olivier van Meer design, JSM and SDH, to make this project ready for the next era. The boat was in need of a full refit, but the biggest challenge was the conversion to electric propulsion, which will be required to sail the boat in Amsterdam in the future.
We worked on both the interior and exterior of the saloon boat. The interior could use an update, but the exterior was in desperate need of a refit.
Upon arriving, inspection revealed that a large part of the bottom of the hull needed replacement. A total of six meters had to be cut out and replaced. This required dismantling most of the interior. In order to install all needed battery power capacity for the electric propulsion, without detracting from the interior, we needed to create more space. For that reason we redesigned the hull and made the bilge a bit deeper in the new part. The boat is now equipped with plenty of battery capacity, without giving in on storage or other volumes.
After finishing the replacement of large parts of the hull, the entire hull has been recoated and repainted, as well as the deck and bilge.
The hull was not the only part of the boat that needed an update. The entire interior and exterior woodwork has also been restored and revarnished. The upholstery has been cleaned thoroughly and the canvas work and rope fender have been replaced.
An important part of the refit was the conversion from to electric propulsion. The city of Amsterdam will soon be banning every kind of sailing that is not driven by electric propulsion. It would be a shame if this saloon boat would not be allowed in Amsterdam anymore, so converting to electric propulsion was the way to go!
We have done the technical part of the refit in collaboration with JSM. This full technical refit consisted of electrical updates, renewing the black water system, grey water system and drinking water system and upgrading the heating system. And don't forget the conversion to electric propulsion that we mentioned before.
The saloon boat looks amazing again and is technically a new boat! She is ready to last for many years to come!