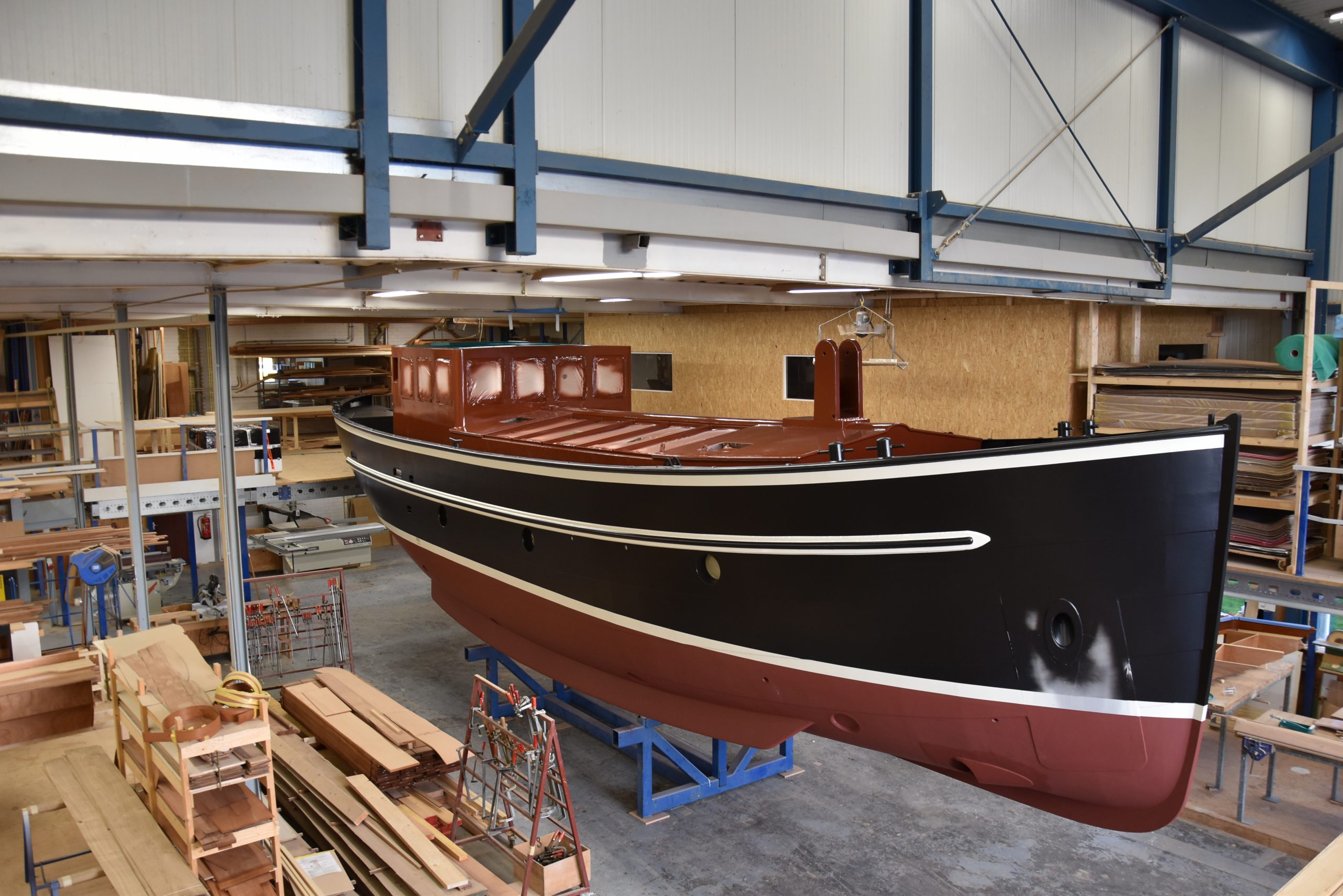 The story behind the "Waddenboot" project.
Under construction: The riddle of the Sands…
One could be forgiven for presuming that every conceivable type of vessel for sailing the shallow Wadden region had been built by now. I certainly did, even when a smart client for whom our office had previously renovated a seaworthy yacht, asked me to create a design for a brand-new 15-metre motoryacht that would enable him to retrace the days of his childhood spent exploring the Dutch, German and Danish parts of the Wadden Sea and coastal regions of the North Sea. The aim was to realise this boyhood dream in the company of his children and grandchildren. I understood this dream – it is the foundation of all that I do.
We composed a list of ideas and soon came to a mutual understanding of this seemingly 'simple' wish list. A steep stern; neither a full-blooded trawler nor a luxury motoryacht; refined but not 'bulky'. A cargo hold as a saloon with just a separate cabin for the owner and box beds for the children either side of the hold.
I felt an affinity with this description, which brought me back to my own childhood. As a kid I'd lie in my own box bed by my porthole and let my mind wander while watching the water around me. With the porthole open, I could smell what lay ahead… Important details. Although strictly instructed by my father, I'd often forget to close it before sailing off… So, every child would have a pillow by a porthole too – they'd have to learn somehow.
A total of seven passengers in very comfortable beds, benches in front and a simple table in the middle. But there had to be plenty of space to move around in too. Lots of accessible storage space (everyone always brings too much stuff). An actual hatch cover that can be opened partly or all the way to allow for evenings underneath the starry skies in summer. The hatch should be usable by one person only, yet sufficiently heat and winter proof.
A small, cosy wheelhouse with open roof and sliding windows, yet fully insulated so that the yacht can be moored safely and comfortably in Vliesloot for Christmas and books can be read in a warm and condensation-free environment. A hearth to dry one's cold and wet Wadden feet – not from a standard boat bench, but from a luxury lounger that can be positioned as you will. Not surrounded by luxury yacht carpentry, but by a rough, rustic, old-school interior. Strong, low-maintenance and of the very best quality. Nautical but not strictly maritime.
There were to be no concessions to her looks. She should echo the pre-war images of the Amstel river and fit into the silhouette of the Bosplaat. She had to stand well clear of the water, be able to cross the Wantij and pass the 'pits' by Stavoren comfortably, even in wind force 6. A lovely little dinghy on deck, simply tob e launced with the boom. Let the children row and sail. An easy way to step on and off board at low tide or step into the dinghy at anchor. Lazy steps, not to be carried around, but pretty enough not to ruin the appearance of the yacht.
The mast had to be simple and foldable, safely and without a fuss. Not just for sailing in Friesland but also for travelling the Danube. 'Easy and simple' is much harder than it sounds, but it's essential. As one of my Puffin owners once said: "To sail a lifetime, you have to have the opportunity to be lazy."
The whole yacht had to be easy to maintain to avoid wasting time and money. A sturdy hull, as you never know what you might encounter underwater. We decided to build heavy and strong in aluminium. I knew all about the skills of the hull builders at VMG and was not afraid to ask them for a tightly built, unfinished hull, despite the refined hull shape. A challenge for our design team, a challenge for them!
So, what seemed like a simple list, turned out not to exist in this form and combination. Despite our 38 years of design experience, it was a tricky puzzle with countless unconventional combinations and detailed solutions. The hull is now nearly finished and the Riddle of the Sands will be launched at VMG Yachtbuilders in Enkhuizen in early summer. Back to the origins of an authentic world sailor as her owner. It was mainly thanks to the free spirit and craftsmanship of the yard that I had more fun designing a yacht than I had in years. Lifelong dreams like this should never be suppressed.
Olivier van Meer
Van Meer naval architects